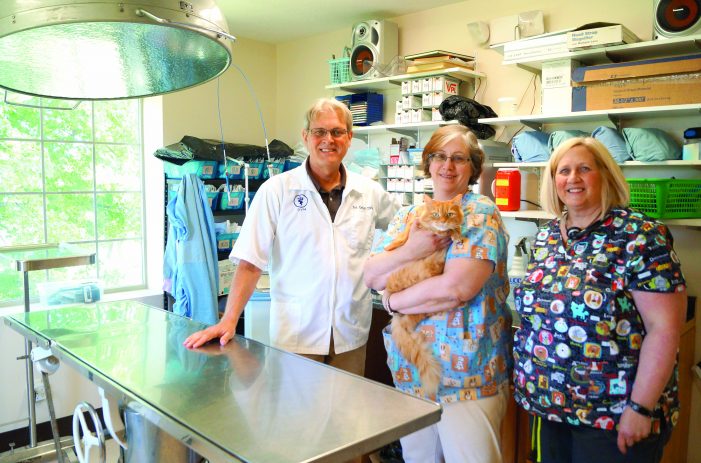 Serving the needs of clients and patients
CHRISTINA McCUNE/Dalton Gazette & Kidron News
Wednesday May 17, 2017
HOW AND WHERE DID THE BUSINESS GET STARTED?
We bought this building, which some may remember as either a pottery or an antique store, in 1982 shortly after Beth and I had our first child. I had previously worked a year in West Virginia and three years in Mt. Eaton doing farm and companion animal medicine and hoped that dealing with smaller patients would be healthier for my back and my family.
HOW HAS THE BUSINESS CHANGED OVER THE YEARS?
Veterinary medicine has made major advances in diagnostics, treatments, and technology over the past 39 years since I graduated from OSU Veterinary College. Some examples of technological changes in our office would include in-house blood and chemistry testing equipment and slides, and our therapy laser. This past year we replaced our CO2 surgical laser with one with twice the power and replaced our chemical X-ray film processor with digital. Of course when I started we didn't have cell phones, fax machines, or computers either. And if a patient requires the expertise of a board certified specialist, they are now less than an hour away if a referral is needed. But at the end of the day, dogs and cats and the people who love them are pretty much the same.
HOW WOULD YOU DESCRIBE YOUR RELATIONSHIP WITH YOUR CUSTOMERS?
I like to tell my clients that I am an owner advocate, meaning that I am there to serve that person, that family by providing for the welfare of my patients. I strive to do what is best for the animal in my care but in the con- text of what the needs and desires are of the client, a partnership of sorts. I have always been humbled and honored by the trust people have had in me, and though I all too often cannot remember a name to go with a friendly face, I hope I can consider them as friends as well as neighbors and clients.
WHAT DO YOU LIKE ABOUT HAVING A BUSINESS IN WAYNE COUNTY?
Wayne County, and the surrounding communities, still has that rural and small town sense to it. For the most part, folks are warm, trusting, honest and have reasonable expectations. Feels like home to me.
WHAT IS SOMETHING ABOUT YOUR BUSINESS PEOPLE MAY BE SURPRISED TO HEAR?
From what I have been hearing, what might surprise some folks is that I am NOT about to retire soon. It may have seemed that way to some as I have had the services of a veterinary personnel service to provide doctors for Tuesday appointments while I concentrate on surgeries, as well as their help for vacation time. This has allowed an increase in available appointments as well as providing new prospective on cases, different treatment and diagnostic options, and a little more personal time, without which I might need to quit.
DOES YOUR BUSINESS GET INVOLVED IN COMMUNITY PROJECTS?
Other than donations here and there, I served 10 years on the board of the Wayne County Health Department and 16 years on the Dalton Local School board, as well a few on the Career Center board. Church and grandkids are my major time donations now.
WHAT ARE YOU LOOKING FORWARD TO THIS YEAR?
For this year, I am hoping we continue to graciously serve the needs of our patients and clients. Beyond this year, I have a daughter who will be beginning veterinary training in September and there is the possibility this business might continue as a family affair. And I hope I do not fail to convey my gratitude to my clients and my long suffering, dedicated staff without whom I could not function.
Dalton Gazette & Kidron News Business Profile, with answers provided by Dr. Ted Gerber.